RESTAURANTS EXCLUSIVE AND ELEGANT
RESTAURANTS
Hotel Vojvodina restaurants, Exclusive and Elegant, are ideal spaces for organizing celebrations, business lunches, cocktails, and similar events and offer a wide selection of food and beverage according to your requirements.
The capacity of restaurants is 250 and 150 seats, all together a capacity of 400 seats is obtained, which is suitable for organizing larger celebrations. The place is adaptable so it can also be ideal for smaller discreet celebrations or events.
We are organizing wedding ceremonies, birthday celebrations, baptisms, marriage anniversaries, corporate celebrations, and cocktails, as well as catering services. We are especially known for serving food buffet style.
THE BREAKFAST
Breakfast is served as a buffet in the period from 06.00 am to 10.30 am. A variety of our groceries is available and our staff will help you start the day just the way it should be - with a good and healthy breakfast. We care about the health of our guests, that is why we follow the recommendations for the prevention of Covid-19.
BOARD / HALF BOARD SERVICE
Hotel Vojvodina often hosts large groups of tourists, athletes, guests at congress events… We have a specially prepared menu for these occasions which is also available for individual guests who want full or half board. We can offer both a buffet option and a set of menus depending on your requirements.
A LA CARTE - SERVICES
The restaurant with a long tradition, tucked away on the ground floor of the hotel, provides a special experience for each guest. A large selection of dishes, always made from fresh carefully selected ingredients, prepared with the special attention of our chefs, as well as a large selection of wines and drinks, with a pleasant ambiance, will make you come again. The restaurant is open to hotel guests and walk-in guests. Free parking is provided to all users of our services.
We can organize wedding ceremonies, birthday celebrations, baptisms, wedding anniversaries, corporate celebrations and cocktails, as well as catering services - MORE INFORMATION.
IZLOG CAFFE
Izlog Caffe is located in Hotel Vojvodina and it is an ideal place for a break and enjoyment. It is located next to the reception on the ground floor of the hotel. A wide range of squeezed juices, fruit, and vegetable smoothies, coffee is available to guests, but also a wide selection of options for breakfast, salad meals, delicious sandwiches, and main dishes. In the warmer part of the year, the summer garden of Izlog Caffe is opened. The entire offer is also available in the to-go option.
Izlog Caffe is open to all hotel guests, as well as to all visitors.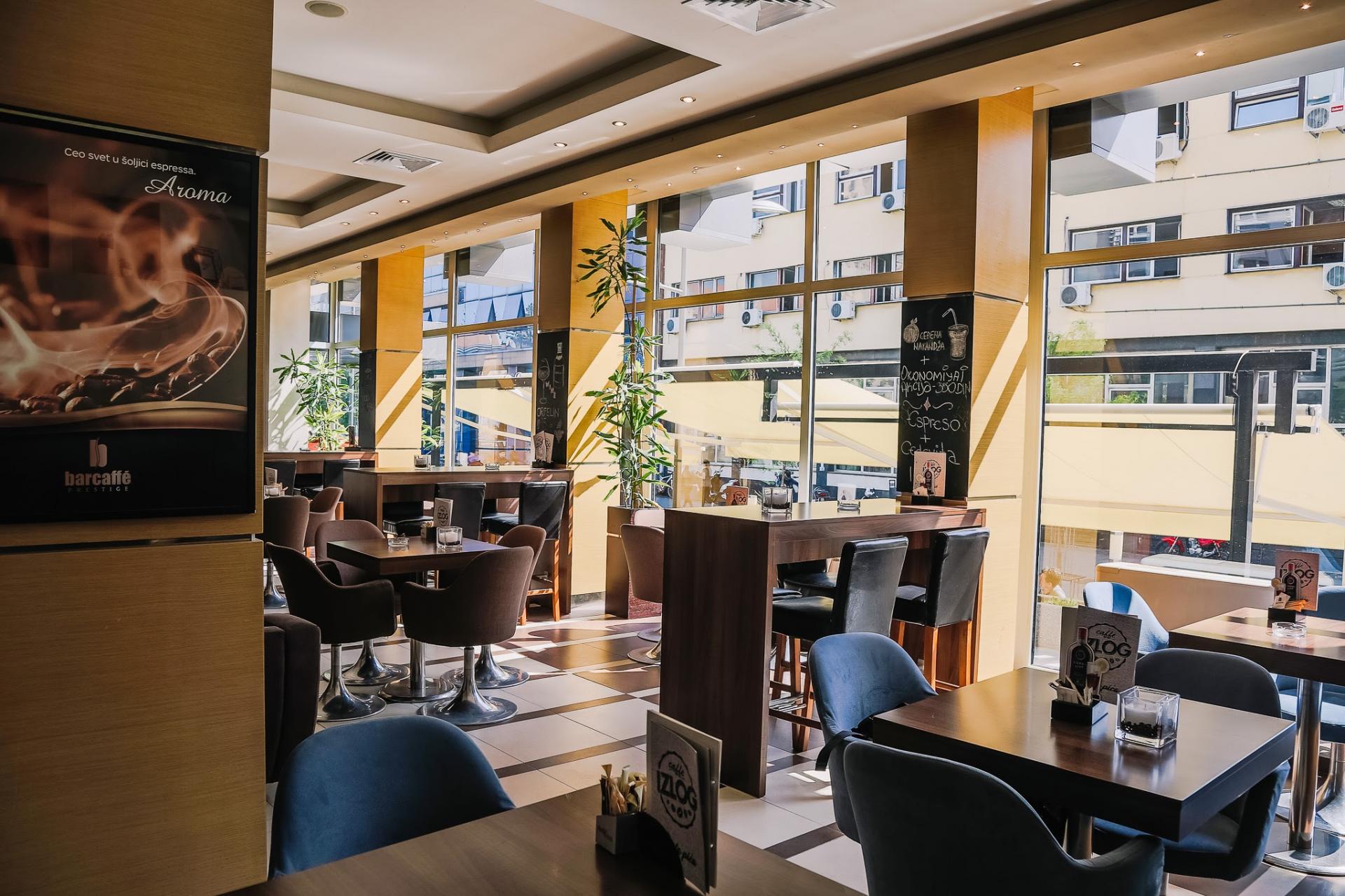 Newsletter Subscribe
Be the first to know about our promo offers