SEMINARS AND CONFERENCES
IDEAL LOCATION
Thanks to its location, close to the two big cities of Belgrade and Novi Sad and many years of experience in organizing numerous business meetings, Hotel Vojvodina in Zrenjanin is an ideal choice for organizing Your events.
The excellent location of the hotel Vojvodina allows you to explore numerous monuments, museums, theaters, and cultural events that are just a few-minute-walk from the hotel.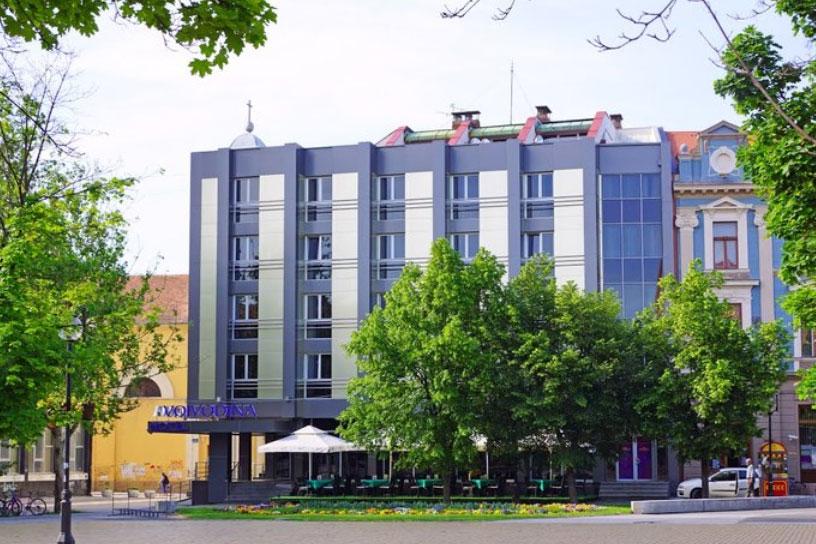 BUSINESS CENTER Vojvodina
If you want to develop ideas, exchange acquired knowledge, or hold a business meeting, our business center is the right place for you.
The dynamic business requirements of business users will be met by a multifunctional conference hall with 300 seats, ideal for holding congresses, seminars, larger business meetings, presentations, training, and other business activities.
A large video beam, lots of natural light, as well as good lighting and decorative light provide opportunities for organizing various events. The hall can be transformed from a conference hall into a dance hall, a theater podium, or a modern classroom in a few moments.
This unique conference room without pillars makes the complete space harmonious and multifunctional, giving you the possibility of room set-up exactly as you imagined.

In addition to a large conference room, Hotel Vojvodina also has two smaller rooms that can accommodate up to 30 people and are very suitable for smaller business meetings and work in small groups.
EVERYTHING IN ONE PLACE
A break from work, serving a coffee break, organizing catering in the open or closed, everything is possible in one place, because everything is on one dedicated congress floor.

All three halls are connected by a large foyer, which with an aperitif bar and outdoor terrace forms a unique space and is intended for serving coffee breaks, working cocktail-lunch, registration, or exhibition space.
HOTEL PROFESSIONAL TEAM
With a highly professional staff with great experience in organizing domestic and international events and a rich selection of food and beverages, you can be sure that your event will be organized at a high level.

Dozens of seminars and many satisfied clients are the best proof of quality and trust.
FOR ALL ADDITIONAL INFORMATION AND QUESTIONS, WE ARE AT YOUR DISPOSAL.
Feel free to contact us via
ORGANIZATION OF SUCCESSFUL EVENTS TO REMEMBER IS WHAT WE DO BEST IN HOTEL VOJVODINA IN ZRENJANIN!
Newsletter Subscribe
Be the first to know about our promo offers